One Block Wonder Book
6 quilt projects teaches technique for creating endless
"one"
"block"
"wonder"
variations No Y seams. Add the ruler to your cart too.
$22.50
Easy Equilaterals 60 Degree
cut 60 degree triangles in multiple sizes from 1 in up to 8 inch makes it easier to stitch together works great with
"one"
"block"
"wonder"
.
$15.99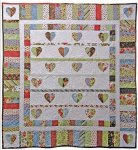 Holiday Charmer
Approx. 48" x 45" Holiday charmer a fun piece and fused and holiday quilt. Easy applique included.
$4.99
Create Content
This is replacing an existing website. This is a brand new website. We do content creation and management services for $30 per hour in a variety of packages to suit your needs. If you are interested in learning more, please contact your Account Manager. ....