Jelly Roll Bargello Quilts

Welcome to the world of Bargello, a style of quilt that is reminiscent of the Op Art of the 1960s, filled with movement and the illusion of depth thanks to the placement of the fabric's color and value. In fact, they?re inspired by a type of straight stit


Jelly roll Rug Pattern

Jelly roll rug pattern. Pattern will teach you to Create a fun rug out of jelly rolls add a jelly roll to your order or just get some gator fabric and panel and cut up to make a cool rug!


One Block Wonder Book

6 quilt projects teaches technique for creating endless one block wonder variations No Y seams. Add the ruler to your cart too.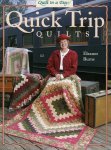 Quick Trip Quilts

Pack up your sewing machine and take a "Quick Trip" with Eleanor! Quick Trip Quilts is a strip pieced pattern with three layouts. The traditional "Quick Trip" is based on a "Trip Around the World" format. A Bargello effect is achieved with the "Quick Quar