Cameo Tote Pattern in Batiks!

Creative tote with Braided handles & lots of pockets! Fun to make! Fun to use! Choose from a variety of great fabric choices including Downton Abbey! Set off your design with a cute Cameo, also available here on our website.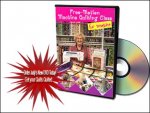 Free - Motion Machine Quilting Class For Newbies

"Order Judy's New DVD Today! Get your quilts quilted!" Perfect for beginners and up. I love teaching beginners and unlocking your hidden talent!