2016 Row by Row License
Charm Square Beauty-Pattern

Create this quick chain pieced table topper, lap quilt or table runner with Judy's quick Lovely Kit piecing, binding and machine quilting techniques


Fall Memories Kit

Fall memories fabric/ pattern kit


Florida Laser Kit
Graceful Herons - Wall Quilt (60x49) Kit

Kit includes: Background, 2 borders, grays, legs, grass, pattern, and all fabric for top. Hang in the guest room with decorative palm trees, and tropical music - visitors will never want to leave!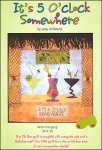 It's 5 O'Clock Somewhere - Wall Hanging (28x30) Kit

This Tiki Bar quilt is complete with mosquito nets and a thatched roof! Fun little quilt for a den or kitchen area. A real conversation starter!


Quick Trips by Ellie Burns Book

Judy Loves this book! Each of the quilts in the book are great for an advanced beginner...really, any quilter that can rotary cut and piece accurately can create these quilts. Judy has made each quilt at least once! And grab it today!


Sunflower petal pin cushion

Sunflower Petal Pincushion Kit, Kit includes fabric and clay saucer. Just add stuffing!