All Ruffled Up Pattern

Great Pattern . Make with colorful batiks for a beautiful bag.


Australia Beckons Pattern

Australia Beckons! A quilt celebrating the colors of Australia. Includes wall hanging pattern(40"x38") and Candle mat pattern.


Cameo Tote Pattern in Batiks!

Creative tote with Braided handles & lots of pockets! Fun to make! Fun to use! Choose from a variety of great fabric choices including Downton Abbey! Set off your design with a cute Cameo, also available here on our website.


Charm Square Beauty-Pattern

Create this quick chain pieced table topper, lap quilt or table runner with Judy's quick Lovely Kit piecing, binding and machine quilting techniques


Egyptian Tiles Pattern by Judy Hansen

perfect piecing every time! Downton Abbey's visit to Egypt is reflected in the fabrics for this quilt. Enjoy the illusion as the blocks change from 6 patch to 12 patch to rows as the strippy sashing sets off the block design! Great for beginner.


Graceful Herons - Wall Quilt (60x49)

Hang in the guest room with decorative palm trees, and tropical music - visitors will never want to leave!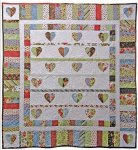 Holiday Charmer

Approx. 48" x 45" Holiday charmer a fun piece and fused and holiday quilt. Easy applique included.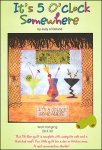 It's 5 O'Clock Somewhere - Wall Hanging (28x30)

What fun to add the wall hanging to a family room or patio! Easy full size patterns.


Petal Bouquets & Pin Cushion Pattern by Judy Hansen

Petal Bouquets and Pin Cushion pattern, by Judy Hansen. plus Bonus: Fall Holiday Pin pattern too!!! Use up that stash of fat quarters with these yummy projects...decorate your home, give as a gift or decorate a boutique. Quick, fun and just a few suppl


Pineapple Delight Pattern

Pineapple DeLight Pattern, Once you get hooked on these fun YOYOs you can't stop! approx. size 19"x20". Also available on our site, Small(Green) YoYo Template, makes the perfect YoYo every time. Fun and easy project.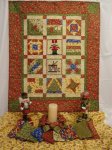 Sampler BOM Duet

Find out what FUN, paper piecing can be with these cute little 6" beauties! and a bit of fusible applique too! Pattern by Judy Hansen.


Seahorse Playground - Wall Quilts (34x47 & 48x33)

Seahorse Playground - Wall Quilts (34x47 & 48x33)


Sebago tote bag pattern

Large over the shoulder bag with four outside pockets. Quick to make with pre-quilted fabric. 12" high x 20" wide.