Cameo Tote Batik Kit
Dresden Woods Pattern

Dresden Woods Pattern includes instructions for 2 sizes, 61"x61" and 98"x98" Unique Dresden with 20 petals each.


Laura's Patchwork Sampler Quilt pattern

Laura's Sampler Quilt , 12" Blocks 65"x58"


Mini Sampler Pattern

Choose from 2 different color ways. 36"x30" paper pieced and rotary cut blocks


Prairie Pathways quilt, doll dress and doll quilt pattern

Includes pattern for Drunkard path quilt, doll dress/pinafore/hat pattern and doll quilt.


Australia Beckons Pattern

Australia Beckons! A quilt celebrating the colors of Australia. Includes wall hanging pattern(40"x38") and Candle mat pattern.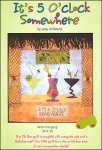 It's 5 O'Clock Somewhere - Wall Hanging (28x30) Kit

This Tiki Bar quilt is complete with mosquito nets and a thatched roof! Fun little quilt for a den or kitchen area. A real conversation starter!


Antique Christmas Memories Sampler Kit

This kit contains Book, kit for the top, sashing, borders, and binding. Fabrics, Nancy Halvorsen, Happy Holidays Line and as close to original fabrics as available. The book has both pieced and applique (fused or hand) patterns. All original fabrics! Limi


Floral Medley by Judy Hansen

Floral Medley....12 lovely blocks full of piecing and creative applique...so easy and fun!


Tropical Paradise Book by Judy Hansen

Tropical Paradise includes a Twin Size Sampler and 7 additional projects.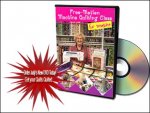 Free - Motion Machine Quilting Class For Newbies

"Order Judy's New DVD Today! Get your quilts quilted!" Perfect for beginners and up. I love teaching beginners and unlocking your hidden talent!


Charm Square Beauty-Pattern

Create this quick chain pieced table topper, lap quilt or table runner with Judy's quick Lovely Kit piecing, binding and machine quilting techniques