Butterfly Panels one block wonder

7 Butterfly panels for you to create one block wonder with panel center. order the book and ruler too


Jelly Roll Rug pattern, Bright color batik jelly roll and 3000 yardsThread

Includes Jelly roll rug pattern, bright colored batik jelly roll, and 3000 yard spool of thread Just add pre cut batting rolls


Beach Haven One Block Wonder panels

Seven panels to create one block wonder quilt top using one panel in the center and the other 6 panels to create one block wonder around the panel. Add the book to your order if you have never tried this technique before.


One Block Wonder Book

6 quilt projects teaches technique for creating endless one block wonder variations No Y seams. Add the ruler to your cart too.


Easy Equilaterals 60 Degree

cut 60 degree triangles in multiple sizes from 1 in up to 8 inch makes it easier to stitch together works great with one block wonder.


Skeleton Fun- Bella Flora

Skeleton Fun using share my stash "Bella Flora" fabrics from her very first collection. Kit includes pre quilted background/batting/backing, Pattern, binding and all applique fabrics. great fun!!!!


two color bargelllo quilt kit
Cabin Skein kit and book bundle

Kit makes mini quilt 20x20. includes fabric for quilt top, backing and binding. Book included has many miniature quilt patterns. You saved 20 percent off the book by buying the kit and the book!!!


Crazy Christmas Trees Runner Kit

17 1/2" x 40 1/2" Runner includes pattern, fabric for top, binding and backing too! Uses Creative Spider Web Ruler also available for purchase on our site


Creative Grid Spider Web Ruler

This double duty 45 degree Spider Web ruler creates a variety of blocks using 3 to 10 inch strips or strata widths. Once you have cut the triangles, reposition the ruler to cut the background kite and/or corner shapes


Fall Memories Kit

Fall memories fabric/ pattern kit


Crayons Quilt Kit

Kit includes Crayon box with fat quarters and black paintbrush studios fabric for quilt top and binding. We also include the printed download pattern to make it easier for you!!! 56"x76"


Graceful Herons - Wall Quilt (60x49) Kit

Kit includes: Background, 2 borders, grays, legs, grass, pattern, and all fabric for top. Hang in the guest room with decorative palm trees, and tropical music - visitors will never want to leave!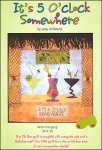 It's 5 O'Clock Somewhere - Wall Hanging (28x30) Kit

This Tiki Bar quilt is complete with mosquito nets and a thatched roof! Fun little quilt for a den or kitchen area. A real conversation starter!


Seahorse Playground - Wall Quilts (34x47 & 48x33) Kit

Includes full size pattern and all fabric for top. Choose from Batiks or Silhouettes. Hang this fun wall hanging anywhere you want to have a Tropical Getaway!