Autumn Ginger Snap

45 x 60 Quilt. Kit includes pattern, all fabric for quilt top and binding and leaf template for tracing.


Cabin Skein kit and book bundle

Kit makes mini quilt 20x20. includes fabric for quilt top, backing and binding. Book included has many miniature quilt patterns. You saved 20 percent off the book by buying the kit and the book!!!


cracked peper quilt kit

60x60 quilt kit includes all fabrics for top and binding. pattern too! fun and easy!!!


Crushed Pistachio Fun Fat Quarter Quilt

Kit includes 15 fat quarter bundle and pattern. Makes quilt size 48 x 60. binding too.


Fall Memories Kit

Fall memories fabric/ pattern kit


Crayons Quilt Kit

Kit includes Crayon box with fat quarters and black paintbrush studios fabric for quilt top and binding. We also include the printed download pattern to make it easier for you!!! 56"x76"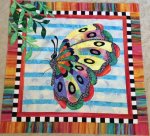 BJ Designs Beatrice Butterfly Fabric kit

Kit includes pattern and large assortment of fabrics as seen in the picture for the top and binding. wall hanging size.


Graceful Herons - Wall Quilt (60x49) Kit

Kit includes: Background, 2 borders, grays, legs, grass, pattern, and all fabric for top. Hang in the guest room with decorative palm trees, and tropical music - visitors will never want to leave!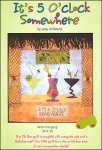 It's 5 O'Clock Somewhere - Wall Hanging (28x30) Kit

This Tiki Bar quilt is complete with mosquito nets and a thatched roof! Fun little quilt for a den or kitchen area. A real conversation starter!


Seahorse Playground - Wall Quilts (34x47 & 48x33) Kit

Includes full size pattern and all fabric for top. Choose from Batiks or Silhouettes. Hang this fun wall hanging anywhere you want to have a Tropical Getaway!