Binding tool

DESCRIPTION Use the Angle Finder to create perfect mitered bindings on corners with angles of 60; 90; 120; and 135 degrees. Cut bindings from strips – and then use this tool to cut the angles to miter each corner. Continuous binding is no longer required


Swarvorski Jumbo Starter Kit

Your jumbo kit includes all the needed items to get started with these high quality crystals. 1. large 12" square heat proof mat 2. mixed bag of crystals....various sizes and colors 3. heat tool for setting stones 4. glue to set without heat 5. stenc


60 Degree Ruler

60 Degree Ruler


Zig Zag ruler 5"

this great new ruler, designed to be used with simple strip sets. fun and easy to use!


Zig Zag Ruler small

The mini zig zag ruler 2 3/4 size. Use alone to create a quilt or use with the large zig zag ruler creating a quilt. includes ruler and full instructions


Clover Chenille Rotary Cutter

makes the job easy!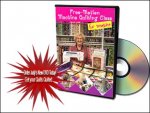 Free - Motion Machine Quilting Class For Newbies

"Order Judy's New DVD Today! Get your quilts quilted!" Perfect for beginners and up. I love teaching beginners and unlocking your hidden talent!


Free Motion Super Slider

Helps glide fabric when machine quilting. Fits any sewing machine. We like this smaller one, the bigger size gets all floppy and fabric can catch on it.


Quilt Halo Machine Quilting Aid

The Quilt Halo is a domestic machine quilting aid that helps you take control over your quilt. The edges of the Halo are slightly rough & rubbery. This allows the Halo to easily grab your quilt & allows you to quilt smoothly.